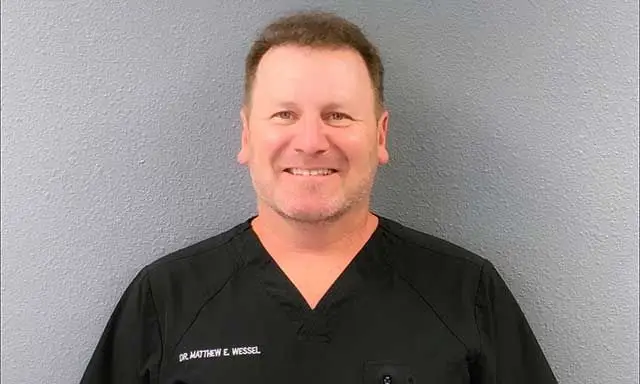 Dr. Matthew Wessel
Sun City, AZ Dentist
Grand Dental


Dr. Wessel was born in Chicago, then moved to AZ where he received his first degree from Northern Arizona University. He then completed his doctorate degree from Creighton University in the heartland of America, Omaha Nebraska. He has been proudly practicing in the Valley where his expertise and kind gentle touch have been enjoyed by his patients for over twenty two years. Dr. Wessel also constantly attends continuing education classes in all areas of dentistry and is a member of several local study clubs including Spear Dental Education to make sure he can offer the best and most current treatment options to his patients that dentistry has to offer. Dr. Wessel is the proud father of two wonderful children Madeline and Rylan. He enjoys all of the valley sports teams while also, boating, camping and riding ATV's throughout all of our magnificent and unique state of Arizona. Dr. Wessel is very passionate about dentistry and strives to please every patient and make them extremely proud of their dentist and dental care.

---
Dr. Joseph Santoro - Fellowship Trained Implant Surgeon
Sun City, AZ Dentist
Grand Dental


Upon graduation from the University of Colorado School of Dentistry, he returned home to Phoenix, AZ to provide his patients with quality care in all facets of general dentistry. By his fourth year in practice, he developed a love for oral surgery which led him down a 2 year path of internship in oral and maxillofacial surgery, and fellowship in oral implantology - both at the University of Miami, FL. As one of just a handful of fellowship implantologists in the country, he has now dedicated his career to the pursuit of excellence in implant surgery and bone regeneration. His greatest delight is seeing the positive impact that his care has on the lives of his patients.
---
Dr. Matthew Cichowski
Sun City, AZ Dentist
Grand Dental
I was born and raised in Saginaw, Michigan, When I was in the 5th grade, I needed to have a couple of fillings done in two of my front teeth and the dentist kept telling me how good I was to sit so still and after I saw how nice my teeth looked, I decided I'd like to become a dentist.
I attended and graduated with a Bachelor of Science degree in Zoology from Michigan State University and then attended and graduated with a Doctor of Dental Surgery from the University of Detroit in 1974.
I have my own dental practice in Saginaw for 30 years before my wife and I decided we had enough of the winters Michigan offered and moved here to Arizona. My wife Linda and I live in Carefree and we have 5 children and 6 grandchildren. I enjoy most sports and was an avid tennis and golf player back in Michigan, and enjoyed fishing once in a awhile. I am still very passionate about dentistry and enjoy being around people. I attend Scottsdale Bible Church in Scottsdale. My wife and I enjoy relaxing with each other and our little dog Lexy in the quietness of our home. We also enjoy going out to the many different restaurants this wonderful area provides.
---
Dr. Kimball Morejon
Sun City, AZ Dentist
Grand Dental
Dr. Morejon grew up in Arizona, and attended Case Western Reserve University's School of Dental Medicine in Cleveland, OH. He applied for and received a competitive U.S. Air Force scholarship, completing a residency in Advanced Dentistry at Nellis AFB. He entered private practice in 2010 and has maintained a commission in the Air Force Reserves and currently is a Lieutenant Colonel serving as the Deputy Chief of Dental Services for the 944th Medical Squadron at Luke AFB. He is married with three children and an Aussiedoodle and loves to be involved in his kids' extracurricular activities including soccer, art and dance.